Charting a course for a community that offers opportunity for all
Pennsylvania's local leaders have a profound role in advancing quality of life and access to opportunities in their communities. Using sustainability as a strategic framework helps municipalities achieve these goals.
Sustainability is a comprehensive, ongoing commitment to support healthy residents, build vibrant communities and advance environmentally responsible practices.
Does your community have streets where people of all ages and abilities can travel safely on foot, by bike, by bus, or any other means?
Can your children swim, play, or fish in local waterways?
Can people who work at the local grocery store afford to live in your community or nearby in an equally safe and beautiful neighborhood?
Do all community members participate or feel welcomed to participate in community wide events or in the creation of policies or practices?
Are there accessible and safe places for enjoying nature and playing outdoors?
Is the community working to mitigate carbon emissions and preparing for a changing climate?
Working with municipal staff, elected leaders, residents, and businesses, Pennsylvania municipalities can chart a course for creating a community that offers opportunity for everyone.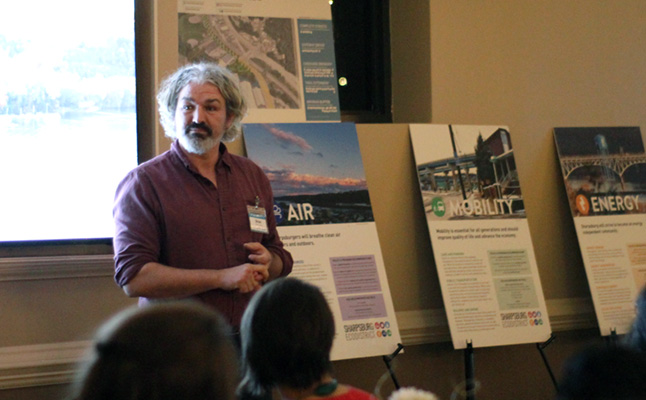 The Sustainable PA program provided Millvale with an accessible methodology… It gave us a snapshot of where we are, and where we need to go.

Brian Wolovich, former Council Member, Borough of Millvale
Advancing Toward Clear Goals
The Sustainable Pennsylvania municipal certification is a tool municipal and community leadership can use to assess, plan, and implement sustainability policies and practices, and foster innovation.
The certification, a joint project of the Pennsylvania Municipal League and Sustainable Pittsburgh, uses a common set of measures to assess community sustainability and present consistent and transparent data. The program encourages municipal leaders to establish a shared set of community goals and a clear plan to achieve them.
Stay up to date on the latest information about your region's sustainability efforts:
Quality: Sustainable Pennsylvania shares community-reported and institutionally-verified data. The data presented with the municipal certification provide transparency and encourage residents to support and hold their community accountable.
Quantity: Currently, there are over 110 municipalities that have earned a Sustainable Pennsylvania certification. These municipalities renew their certification periodically, providing updated sustainable community plans and data.
Incorporating sustainability in the community and municipal governance will improve government services, foster economic opportunity, and lead to a resilient, attractive, and thriving community for all residents.
Your local government can be certified for its sustainable practices!